---
| 30-Day No Hassle Returns Ships Quick
---
A staple jump rope for anyone doing regular rope work and cardio fitness training. Features unbreakable 5.5" plastic polymer handles and an ultra-durable 5mm PVC jump rope cord. 
Cord Length: 10ft
Handle Length: 5.5"
Popular for gyms:
Durable PVC cord is designed for longevity on rough indoor and outdoor surfaces.
Thick 5mm cord ads resistance to workouts for a quicker cardio burn.
Easy resizing system with snap-lock cord ends. Quickly resize to height of different users.
PVC cord won't kink when hung on racks or hangers.
Upgraded rope features:
New ergonomic grip with dimpled handles for a better grip when you sweat.
A new dowel for a smoother spin.
New PVC with a string core. The string running through the PVC cord will keep it from snapping, especially outdoors in cold weather. String also keeps the rope from "stretching" when spin force is applied (particularly during double unders), which helps for a more consistent jump.
Customer Reviews
Write a Review
Ask a Question
Filter Reviews:
rope
price
Double Unders
workouts
speed ropes
strength
several
usage
ways
06/20/2020
Phillip M.
United States
great jump rope!!
Great! Better than the $29.00 I had before!
06/02/2020
Brad B.
United States
Great outdoor rope
I bought several of these for people doing virtual workouts through my gym. Now faced with having to do double unders outdoors, all of our ropes were fraying badly. This rope is ideal for outdoor usage. It's heavier than our indoor speed ropes, but in a lot of ways, that just helps us build our strength for future indoor DUs. We're all very happy with them, especially for the price.
02/09/2020
Betim A.
Switzerland
Worst pvc rope, the handles are good.
Not as good as the 2 older version of the boxers jump rope. This ha dles felt to me really cheap and light, but it still good because the mechanics are the same like the old ones. I habe big problem with one handle it males really bothering noises. I dont know what it is. Ooo yeahvthe rope are extremely cheap i liked more the normal pvc ropes. This rope felt to me extremely rubber and extremely kink. I changed the rope with a usual pvc rope i stil had it. The handles are good only issue it feels light and cheap its not a sanguine quality anymore, but it works and that wha it matters, only problem on of my handles makes strange noises when i jump rope. Can u send me one handle who workes better.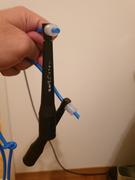 02/01/2020
brandon s.
United States
Just the right weight for training! Made using speed rope even easier
A+++++ wonderful rope for all types of jump rope training. Makes using a speed rope even easier.
---