---
| 30-Day No Hassle Returns Ships Quick
---
The Bullet COMP™ is a premium speed jump rope featuring a near frictionless spin and an innovative head design that makes resizing or cord replacement extremely quick and easy. 
*patent pending
No screwdriver or allen wrench required. Replace or resize cables by loosening the chuck at the head of the rope with your fingers.
Lightning quick spin: Dual steel ball bearings in the handle make this an incredibly smooth and fast ropes.
Durability: Premium aluminium handles with high-grade steel ball bearings that won't rust or wear out. 
Draw string bag included for convenient storage.
Handles: 5.5" (14cm) long / anodized aluminum / slip-protect knurl grip
Cables: Handles accept cable diameters up to the 3/32" (2.4mm) standard coated cable and everything thinner. Will not accept freestyle or outdoor cables.
Weight: 1oz (30g) - each handle

Comes with 10ft long standard 3/32" nylon coated speed cable (made in USA) and a felt draw-string bag for convenient storage.
Customer Reviews
Filter Reviews:
grip
rope
handles
jump rope
feedback
unders
Surge 2.0
cable
bearings
upgrade
11/07/2019
Jose S.
United States
BEST ROPE EVER!
This is by far the best rope I have ever used. The ball bearings on these handles are SICK! I can drop the room temp a few degrees with my double unders and how fast they are now. Love the new tool-less design when settings the rope length. Won't be long before I am doing triple unders.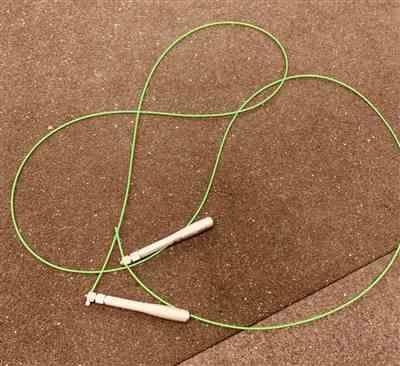 10/13/2019
Tobias R.
Germany
Perfect rope for double-under
Fast rope with a good grip specially with sweaty and chalky hands. It is light but gives you a good response so that you have a perfect feedback for you timing .
09/30/2019
Michael J.
United States
Great jump rope! Easily adjustable.
Great jump rope! Easily adjustable. It is very fast, so takes some getting used to.
07/07/2019
Amy L.
Canada
Perfect rope
Love the balanced and not too heavy metal handles that spin like crazy. This rope quickly rewards practice. All the thumbs up for this.
Pure Speed!
I absolutely love these handles. They feel great in the hand, they have the smoothest spin, and they look great too. I came from the Elite Surge 3.0's. Only thing I like better about them is the foam, and you can fit up to 4mm into it, but in all reality I don't see me wanting to put anything past a 3/32 rope in them. I had an issue with slipping, but I just received some grip tape, from them and I use their grip tape on all my handles because it works so well, so I'm going to be putting it on these. Another small issue is you need to check the chuck to make sure it is tight especially with bare cable or you will have an accident. I put some tape on the end and it helped widen it enough to we're it wasn't an issue. If you are trying to improve your speed, and you've kind of hit a wall, this rope will help you. If you don't believe me, go check out AMJRF and see how many of the top competitors crushed with these handles.
---